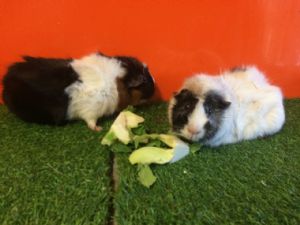 ASTON & MARTIN
Age: 3
Breed: Tri-coloured
Sex: Male
Location: Essex
Bonded:
Date Added: 27/11/2017
Last Update: 12/01/2018
More Details:
These rough haired cuties are very friendly and vocal, and so named due to how fast they moved when trying to take their photographs!!!
We are not 100% sure of their ages but know that they are younger adult males, around the age of 3.
They get on remarkably well despite not being castrated, and we would therefore only rehome them together as a pair.
A donation fee of £40 is required to help us cover the cost of their care whilst at the rescue.
Contact for Enquiries
ASTON & MARTIN is being rehomed by a private individual. For more information please contact:
ESSEX GUINEA PIG, RAT AND RABBIT RESCUE
EASTWOOD
SS9 not open Sundays

Tel: 01702 421353/07709 417474/07725 909198
Email: rose.wendy@btopenworld.com