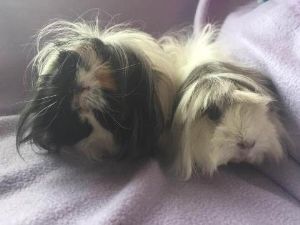 Demi and Doris
Age: 1
Breed: longhaired
Sex: Female
Location: West Midlands
Bonded:
Date Added: 01/01/2018
Last Update: 01/01/2018
More Details:
Doris and Demi are a pair of female guinea pigs who arrived in foster care at Walsall RSPCA as unwanted pets. Doris and Demi are 12-18 months old. Doris and Demi love their food and will let you know when dinner time is, they have fresh veggies daily and they're both very good hay eaters. Doris and Demi have always lived indoors so we are looking to rehome them to an indoor home. They will need to go to an adult home as although they are both very sweet, Doris can ve very grumpy! She doesn't like being handled and dislikes grooming which makes caring for her more difficult due to her needing regular grooming with her long coat. Demi is more laid back and although grooming isn't her favourite past time, she does tolerate it. If you have the perfect home for these beautiful girls please get in touch.
Contact for Enquiries
Demi and Doris is being rehomed through a rescue. For more information or to enquire about adoption please contact:
RSPCA Walsall
PO BOX 3592, Walsall,
Staffordshire
WS3 4XR

Tel: 0845 272 3570
Email: Enquiries@rspca-walsall.org.uk
Website: http://www.rspca-walsall.org.uk

Details: All animals at RSPCA Walsall are kept in private foster homes as we do not have an animal centre.