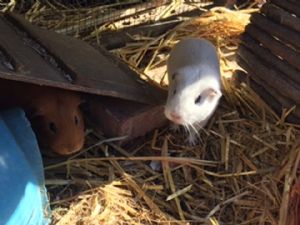 Chomper
Age: < 1
Breed: smooth haired
Sex: Male (Neutered)
Location: Middlesex
Bonded:
Date Added: 06/03/2018
Last Update: 13/09/2018
I've been waiting 6 months for a home!
More Details:
Description: white approx. 10 months old,
General health: good
Temperament:a little skittish
Type of home wanted:

Chomper is 1 of 4 boys signed over to the RSPCA on welfare grounds after several sexing mistakes produced far too many to cope with.

Having come from a place with so many guinea pigs, these boys were understandably very skittish and not used to one to one attention but he has vastly improved since first arriving and now any protests when being cuddled are minimal. Yes he can still whizz around a bit when you first go to pick him up, but he soon settles once you have him. He will obviously need regular handling so he continues to improve.

Chomper and his brothers have begun to bicker a bit since becoming sexually mature so we are now hoping to find female companions for them to all share their days with. Chomper has been castrated so no need to worry about any unwanted litters.

Chomper is currently living outdoors, he has always been an outdoor guinea pig, but may adapt to life inside if given a quiet space to get used to.
Contact for Enquiries
Chomper is being rehomed through a rescue. For more information or to enquire about adoption please contact:
RSPCA Middlesex North West Branch
Middlesex
HA5 1RL

Tel: 020 89669688
Email: info@rspcamiddlesex.org.uk
Website: http://www.rspca-middlesex.org.uk

Details: For more information on any of the beautiful rabbits or guinea pigs in our care please contact: SARAH or TRACY ON THE NUMBER OR EMAIL ADDRESS ABOVE. Please note we are a local RSPCA Branch working in and around Harrow,North West London, Watford and St Albans. we do not have a rescue centre for you to visit, as all the animals are cared for in private foster homes. If you are interested in any of the rabbits or guinea pigs seen here, arrangements can be made for you to visit them once a successful home visit has been completed.