Guinevere
Age: 1
Breed: smooth haired
Sex: Female
Location: Middlesex
Bonded:
Date Added: 03/04/2018
Last Update: 15/05/2018
More Details:
Description: black and white, 1-2 yrs old.
General health: good
Temperament: friendly
Type of home wanted: see Esmeralda
Guinevere must be rehomed with: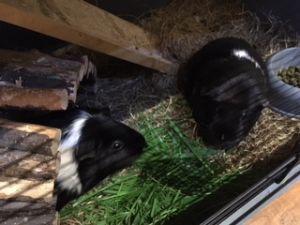 Esmeralda
Age: 1
Breed: smooth haired
Sex: Female
Date Added: 03/04/2018
Last Update: 15/05/2018
More Details:
Description: black and white 1-2 yrs old.
General health: good
Temperament: friendly
Type of home wanted: Esmeralda, Guinevere and Mrs Nibblesworth are 3 girls hoping to find a new forever home together as a little group. They came to us via the RSPCA Harmesworth Hospital in Holloway after being rescued by an Inspector from a multi animal household with an exceptionally large number of rabbits and guinea pigs inside. Due to the large number of animals in this household it is impossible to give an exact age but we are approximating 1 year old.

The girls have been in our care as a little threesome for a few weeks now and despite some stronger personalities than others all get along well. Esmeralda is definitely the most confident and always comes to the front of the cage to take food from you. Guinevere is the most vocal, she gets very excited when she hears the rustle of food bags in anticipation for a tasty treat. Mrs Nibblesworth is the shyest of the group, she also has a condition called impaction which means she will need help clearing her anal sack daily.

All these girls are friendly and easily handled though they can give you the run around when you first try to pick them up. These girls have always been kept as indoor pigs, so will be looking for an indoor home. They will need lots of room to run about and stretch their legs. They will be able to go outside and enjoy the grass once the weather warms up and it stops raining.

We do not spay female guinea pigs but they could live with a lonely castrated male. We would also consider Mrs Nibblesworth being adopted on her own to someone with existing guinea pigs.
Contact for Enquiries
Esmeralda is being rehomed through a rescue. For more information or to enquire about adoption please contact:
RSPCA Middlesex North West Branch
Middlesex
HA5 1RL

Tel: 020 89669688
Email: info@rspcamiddlesex.org.uk
Website: http://www.rspca-middlesex.org.uk

Details: For more information on any of the beautiful rabbits or guinea pigs in our care please contact: SARAH or TRACY ON THE NUMBER OR EMAIL ADDRESS ABOVE. Please note we are a local RSPCA Branch working in and around Harrow,North West London, Watford and St Albans. we do not have a rescue centre for you to visit, as all the animals are cared for in private foster homes. If you are interested in any of the rabbits or guinea pigs seen here, arrangements can be made for you to visit them once a successful home visit has been completed.