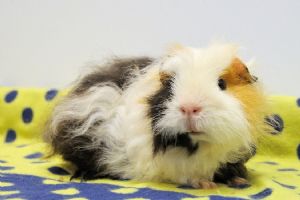 Yam
Age: 3
Breed: Texel Cross
Sex: Male
Location: Middlesex
Bonded:
Date Added: 08/10/2018
Last Update: 09/10/2018
More Details:
Description: tricolour
General health: good
Temperament: slightly skittish
Type of home wanted:
Yam is a handsome fellow looking for a home having come into our care after being removed from a property with over 100 guinea pigs.

He is a chatty chap, but he can be a little skittish particularly when you first go to pick him up, he is fine being handled once you have him and is happy to sit and be groomed or stroked.

Yam is currently living outdoors, he will be fine to remain an outdoor guinea pig for the duration of the winter as long as extra precautions are taken to weather proof his accommodation. He would equally be fine being housed as an indoor pig as long as he has sufficient room to run about.

Yam is a castrated male and is looking for a home with a female or 2 or more.
Contact for Enquiries
Yam is being rehomed through a rescue. For more information or to enquire about adoption please contact:
RSPCA Middlesex North West Branch
Middlesex
HA5 1RL

Tel: 020 89669688
Email: info@rspcamiddlesex.org.uk
Website: http://www.rspca-middlesex.org.uk

Details: For more information on any of the beautiful rabbits or guinea pigs in our care please contact: SARAH or TRACY ON THE NUMBER OR EMAIL ADDRESS ABOVE. Please note we are a local RSPCA Branch working in and around Harrow,North West London, Watford and St Albans. we do not have a rescue centre for you to visit, as all the animals are cared for in private foster homes. If you are interested in any of the rabbits or guinea pigs seen here, arrangements can be made for you to visit them once a successful home visit has been completed.