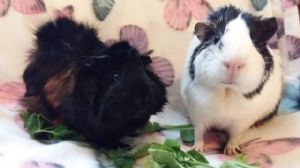 Beryl & Marion
Age: 1
Breed: Abby
Sex: Female
Location: Greater Manchester
Bonded:
Date Added: 23/05/2019
Last Update: 12/07/2019
More Details:
Our lovely pair of pigs Beryl and Marion are sadly back up for adoption. The girls did not get on with their new male partner in a recent potential home, so we are ideally looking for a home for them just as a pair where they can be independent ladies!

Beryl & Marion originally came into our care back in December when they were part of a large rescue of pigs from a home where breeding was out of control. Marion was in the early stages of pregnancy when we got her and reared her babies in a foster home (the 3 babies have now been rehomed). Both girls are quite young, around 1 year old now, and they love a good chat and will greet visitors noisily.

Beryl is black and white and has a smooth coat. She is definitely the boss of the two and is much more cheeky than Marion. Beryl loves her food and is usually at the front of the cage telling you that she requires a snack. Beryl doesn't enjoy being picked up, as she hasn't been used to this from an early age, and squeals like mad when her feet are off the ground - it becomes quite apparently how they earned the name "pig". She will happily take an offering of veggies out your hand.

Marion is mostly black, but has some ginger markings, and is an Abyssinian guinea pig. She has a huge crest on her back and, to be honest, her bum does look big in this! Marion has increased in confidence since being in our care. We see much more of her cheeky face these days, but she can still be quite jumpy. Marion likes to drag her food into her shelter and eat in private. Like Beryl, she wasn't handled much in her first home so she's not accustomed to be picked up, but once you've got her makes much less of a fuss than Beryl.

The girls are probably best suited to a home with experienced guinea pig handlers. We recommend an indoor C&C set up for all our piggies as they provide lots of space and are cheaper than store bought cages (see our housing guide for more info). Min. size housing for two guinea pigs is 5x2ft or 4x2 c and c grids but bigger is better.

Contact for Enquiries
Beryl & Marion is being rehomed through a rescue. For more information or to enquire about adoption please contact:
RSPCA Manchester & Salford
565 Wilbraham Road, Chorlton, Manchester
Greater Manchester
M21 0AE

Tel: 0161 8820680
Email: rspcamcr_salford@btconnect.com
Website: http://www.rspca-manchesterandsalford.org.uk

Details: ∑ All of our rabbits are micro-chipped, neutered and vaccinated against Myxomatosis and Viral Haemorrhagic Disease (VHD). To ensure rabbits are protected from these common diseases, VHD needs repeating every year and in some areas Myxomatosis needs repeating every 6 months, otherwise annually. We undertake a home visit for each rabbit prior to adoption; we aim to do this within one week of each reservation placed. We ask for an adoption fee of £40 per rabbit, £75 for a bonded pair. Rabbits are highly sociable mammals and should ideally live with another. Both rabbits must be neutered regardless of their sex, this is not only to prevent unwanted litters but also promotes good health long term and keeps hormone levels to a minimum. Adopted rabbits living on their own may only be re-homed indoors as house rabbits, requiring a lot of human attention and additional stimulation. When a rabbit is to be bonded with a potential adopterís rabbit, we ask that their rabbit is both neutered and up to date with vaccinations against Myxomatosis and Viral Haemorrhagic Disease (VHD). The best companion match when bonding two rabbits is a neutered male with a neutered female. In most instances, all initial bonding sessions will be carried out under RSPCA supervision to gauge how the rabbits will potentially get on together. When rabbits are to live outdoors then the RSPCA minimum size requirements for a hutch are 6ft x 2ft x 2ft - sheds are an ideal option. With rabbits requiring a minimum of 4-5 hours exercise every day, a secure run permanently attached to the hutch/shed is ideal. We are a registered charity: 232255.