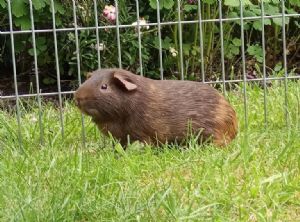 MARSHALL
Age: < 1
Breed: smooth
Sex: Male (Neutered)
Location: West Midlands
Bonded:
Date Added: 09/06/2019
Last Update: 09/06/2019
More Details:
Marshall is an adorable neutered male piggy who arrived in care at RSPCA Walsall from a property over run with animals. He is a sweet natured boy with a lovely personality. He is around 6-9 months of age and a complete joy to care for. Marshall will happily sit for a cuddle and comes running to the front of his cage at veggie time. We are looking to re-home Marshall with a female or group of female piggies. He will be able to go to his new home from 20th June. Marshall can be reserved now.
Contact for Enquiries
MARSHALL is being rehomed through a rescue. For more information or to enquire about adoption please contact:
RSPCA Walsall
PO BOX 3592, Walsall,
Staffordshire
WS3 4XR

Tel: 0845 272 3570
Email: Enquiries@rspca-walsall.org.uk
Website: http://www.rspca-walsall.org.uk

Details: All animals at RSPCA Walsall are kept in private foster homes as we do not have an animal centre.