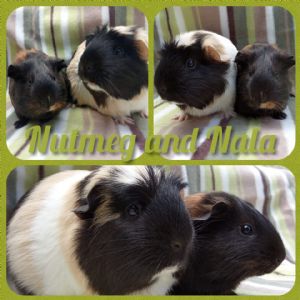 Nutmeg and Nala
Age: < 1
Breed: smooth
Sex: Female
Location: West Midlands
Bonded:
Date Added: 14/09/2019
Last Update: 14/09/2019
More Details:
Nutmeg and Nala are an adorable mother/daughter pair who have found themselves in the care of RSPCA Walsall. Nutmeg arrived in our care pregnant and is now looking for her forever home with her daughter Nala who is 8 weeks old. Nutmeg and Nala are friendly piggies who are very loud, they wheek like crazy at meal times and popcorn around the cage as soon as you give them fresh hay. Nutmeg and Nala are lovely piggies who would fit into most families. Can you offer these girls the forever home they deserve?
Contact for Enquiries
Nutmeg and Nala is being rehomed through a rescue. For more information or to enquire about adoption please contact:
RSPCA Walsall
PO BOX 3592, Walsall,
Staffordshire
WS3 4XR

Tel: 0845 272 3570
Email: Enquiries@rspca-walsall.org.uk
Website: http://www.rspca-walsall.org.uk

Details: All animals at RSPCA Walsall are kept in private foster homes as we do not have an animal centre.