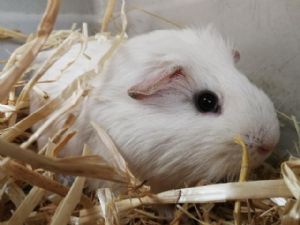 Flynn
Age: 1
Breed: Medium
Sex: Male (Neutered)
Location: Derbyshire
Bonded:
Date Added: 28/11/2019
Last Update: 28/11/2019
I've been waiting 21 months for a home!
More Details:
Flynn is a lovely male guinea pig who is looking for a new home where he can be paired with a female guine pig (he is neutered)

Flynn is a shy boy but with a little TCL and patience he will soon come round.

Like larger pets small animals require plenty of love and attention too.

Please be sure to do your research before adopting a small animal it is important to consider how much time and space a small animal needs as well as ensuring you have the right accommodation and location for that accommodation.

We are always happy to help so please feel free to call us or email for help and advice.
Please also be aware when adopting a small animal for children some are nocturnal so will only be active at night.


For more information please email us directly to info@rspcaderby.org.uk or call us on 01332 344620.

Phone lines open 10 – 4 everyday
Centre opening times
Animal viewing
12 – 4 every day except Wednesday.
Reception enquiries
10 – 4 every day except Wednesday.

If you would be interested in Fostering, sponsoring or adopting an animal please feel free to ask us for more information.
Animal information is up to date at time of upload please call ahead before you visit to avoid disappointment.

Thank you for considering an RSPCA Rescue pet.
Contact for Enquiries
Flynn is being rehomed by a private individual. For more information please contact:
Derby and district rspca
45 Abbey street Derby
DE223SJ

Tel: 01332344620
Email: animals@rspcaderby.org.uk
Website: http://www.rspcaderby.org.uk