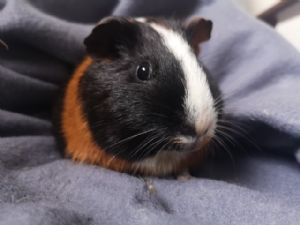 Neville
Age: < 1
Breed: Smoothcoat
Sex: Male (Neutered)
Location: Greater Manchester
Bonded:
Date Added: 13/12/2019
Last Update: 17/01/2020
More Details:
Neville is a young boar, no more than 6 months old. His owner sadly had to leave him behind due to fleeing domestic violence but a neighbour alerted us to his plight and we got him and the other animals in the property safely into our care. He has been with us just over a month building in confidence and getting ready for rehoming. He is now neutered and has a clean bill of health. This is what his foster mum has to say about him:

"Neville is a quiet but cheeky boy. When he first arrived in our care he would barely eat and only come out from his pile of hay at night time or when he thought nobody was around. Fast forward a few weeks and he's definitely gained in confidence! Neville is a dinky little pig but despite his small size he has quite the pair of lungs on him; we can usually hear him before we can see him! As soon as he hears the veg bag rustle he wheeks his head off and runs to the front of the cage to see what treats are in store for him. He loves to snuggle and can usually be found snoozing in his fleecy snuggle tunnel! Neville is still getting used to human contact so he can be a little jumpy when handled. This will definitely improve with time as he's already made progress in the short weeks he's been with us."

Neville is looking for a home indoors with a female pig or group. He can begin to live side by side with them now and commence introductions in the New Year when his 6 weeks post op period is complete. We offer a foster/bonding scheme and full advice and guidance (including a step by step guide). You can read about the type of housing we recommend for piggies here, C&C cages are the cheapest and biggest! http://www.manchesterandsalfordrspca.org.uk/wp-content/uploads/2019/02/Guineapigguide2019-Housing.pdf If you would like to offer Neville a home please get in touch by calling 0161 737 6600 or emailing rspcamcr_salford@btconnect.com
Contact for Enquiries
Neville is being rehomed through a rescue. For more information or to enquire about adoption please contact:
RSPCA Manchester & Salford
565 Wilbraham Road, Chorlton, Manchester
Greater Manchester
M21 0AE

Tel: 0161 8820680
Email: rspcamcr_salford@btconnect.com
Website: http://www.rspca-manchesterandsalford.org.uk

Details: ∑ All of our rabbits are micro-chipped, neutered and vaccinated against Myxomatosis and Viral Haemorrhagic Disease (VHD). To ensure rabbits are protected from these common diseases, VHD needs repeating every year and in some areas Myxomatosis needs repeating every 6 months, otherwise annually. We undertake a home visit for each rabbit prior to adoption; we aim to do this within one week of each reservation placed. We ask for an adoption fee of £40 per rabbit, £75 for a bonded pair. Rabbits are highly sociable mammals and should ideally live with another. Both rabbits must be neutered regardless of their sex, this is not only to prevent unwanted litters but also promotes good health long term and keeps hormone levels to a minimum. Adopted rabbits living on their own may only be re-homed indoors as house rabbits, requiring a lot of human attention and additional stimulation. When a rabbit is to be bonded with a potential adopterís rabbit, we ask that their rabbit is both neutered and up to date with vaccinations against Myxomatosis and Viral Haemorrhagic Disease (VHD). The best companion match when bonding two rabbits is a neutered male with a neutered female. In most instances, all initial bonding sessions will be carried out under RSPCA supervision to gauge how the rabbits will potentially get on together. When rabbits are to live outdoors then the RSPCA minimum size requirements for a hutch are 6ft x 2ft x 2ft - sheds are an ideal option. With rabbits requiring a minimum of 4-5 hours exercise every day, a secure run permanently attached to the hutch/shed is ideal. We are a registered charity: 232255.