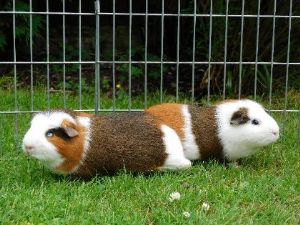 Gadget and Gizmo
Age: 2
Breed: crested
Sex: Male
Location: West Midlands
Bonded:
Date Added: 20/06/2021
Last Update: 20/06/2021
More Details:
Meet Gadget and Gizmo!!

Gadget and Gizmo were born in RSPCA care back in June 2019 when their mom arrived pregnant. Gadget and Gizmo were quickly rehomed and have spent nearly 2 years in their new home. Unfortunately due to the arrival of a new baby Gadget and Gizmo have found themselves back in our care. Gadget and Gizmo were a much loved pair of piggies, however due to Gadget being completely blind (he has had one eye totally removed) he couldn't cope with the new sounds of a baby and was spending much of his time hiding.

We are looking to re-home Gadget and Gizmo to an adult only home, with a family with no children currently and no plans to have children. The last thing we want is for this boys to be returned again.

Gadget and Gizmo will need a minimum of a 4 X 2 c&c cage all on one level. They can be nervous boys to begin with however they do settle quickly. They can be very chatty and will both happily come and take treats from your hand.

Contact for Enquiries
Gadget and Gizmo is being rehomed through a rescue. For more information or to enquire about adoption please contact:
RSPCA Walsall
PO BOX 3592, Walsall,
Staffordshire
WS3 4XR

Tel: 0845 272 3570
Email: Enquiries@rspca-walsall.org.uk
Website: http://www.rspca-walsall.org.uk

Details: All animals at RSPCA Walsall are kept in private foster homes as we do not have an animal centre.