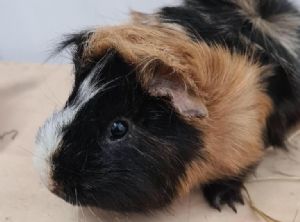 Spike
Age: 1
Breed: Domestic
Sex: Male
Location: Northumberland
Bonded:
Date Added: 04/09/2021
Last Update: 13/11/2021
I've been waiting 8 months for a home!
More Details:
Spike is a one year old male.

He came from a multi pig household and didn't have much handling prior coming to us. However he is now used to being picked up and brushed and is fine with this.

He is very active so need lots of space and things to do to keep him occupied. Spike is very nosey and likes to know what is going on.

He loves his food and likes to tuck straight into his fresh vegetables everyday!

If you would like to offer Spike a home or to know more about him, please contact us on 07519 876 789 (Monday, Wednesday and Friday) or 07872 041733 (all other times).
Contact for Enquiries
Spike is being rehomed by a private individual. For more information please contact:
RSPCA NORTHUMBERLAND WEST BRANCH
4 Newman Way, Battle Hill Hexham
NE46 1BB

Tel: 07872 041733
Email: admin@rspcanorthumberlandwest.co.uk
Website: http://https://www.rspca.org.uk/local/northumberland-west-branch/